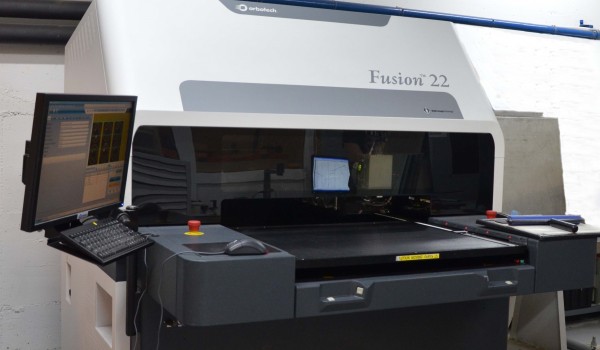 NEW FUSION AOI INSPECTION MACHINES ORBOTECH
We are pleased to announce the recent acquisition by CIPSACIRCUITS SA and CIPSA CIRCUITS MONOCARA S.L. Cipsa Group companies, two new machines Fusion Orbotech AOI inspection.
Cipsa Group, in its constant renovation of machinery to adapt the production to an exigent market, informs you of the recent acquisition of two machines for inspection of internal / external layers by the firm Orbotech AOI.
Inner A.O.I                                                        External A.O.I.
Fusion, the latest innovation in AOI by Orbotech, is a big step forward in creating a revolution in PCB inspection.
Using "Multi-Image Technology"™, Fusion inspects a panel with multiple light sources while achieving an unprecedented detection accuracy.
Designed for circuits of high range as HDI and MLB, Fusion re-defines the efficiency of PCB's production.
Detection accuracy with "Multi-Image Technology"™:
Multiple inspections simultaneously for high accuracy in detection
Intuitive operation with Smart Setup:Optimal, short and intuitive process
Performance:
High resolution with high performance
On-line check
Cipsacircuits, with their new investments, is being the protagonist in all the specialized media in the sector.
Then we leave some links where you can verify the importance of the news.
– ORBOTECH – CIPSACIRCUITS Installed Two Orbotech Fusion AOI Systems and One Sprint 120 Inkjet System
– EVERTIQ – Cipsacircuits install new Orbotech equipment
– PCB007 – CIPSACIRCUITS Installs Orbotech Fusion AOI and Sprint 120 Inkjet Systems
– EIPC – CIPSA CIRCUITS Installed Two Orbotech Fusion AOI Systems and One Sprint 120 Inkjet System